Tax Resolution Services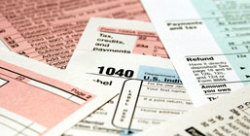 If you've recently run into tax problems with the IRS or state, the most effective way to resolve those issues is to get help from experienced tax consultants. If you're located in Raleigh or the surrounding areas, David B. Newman, LLC, has the expertise and knowledge to assess your situation and guide you through the process of getting your tax issues resolved in an expedient, professional manner. Our tax attorneys are experts in the areas of tax debt relief and tax resolution, and that means we can handle a wide range of different tax troubles. Rather than sit around and let your tax issues continue to cause financial issues, let our tax professionals help you get started on a plan of action that will solve them for once and for all. We'll work closely with you to determine the kind of tax relief strategies you're eligible for and provide you with tax help toward achieving a favorable settlement. Our tax resolution services can not only assist you in getting out from under a mountain of federal or state tax debt, but you'll also get relief from the daily stress and worry that accompany IRS problems. Contact David B. Newman, LLC, right away to discuss your needs and start tackling your tax troubles!
Tax Settlement Negotiations
The knowledgeable tax lawyers at David B. Newman, LLC, can offer you a wide range of tax resolution service options. As experienced tax consultants, we will analyze your tax problems, identify the best tax settlement solution to remedy them, and then help you obtain tax relief that will put your finances back in order. 
Installment Agreements
Here at David B. Newman, LLC, we have the expertise necessary to negotiate directly with the IRS or state to arrange a realistic plan that will enable you to pay your tax debts in agreed-upon monthly payments. Securing an installment agreement can help relieve the stress and pressure that's been on you due to unpaid tax liabilities, and it will also allow you to meet your tax obligations without having to struggle with financial hardship, oppressive IRS penalties, or other government actions. 
Offers in Compromise
If you're unable to pay the full amount of your tax debt without incurring financial hardship, you may be eligible for a tax settlement arrangement with the IRS known as an offer in compromise. After a careful evaluation of your income and assets, the IRS may be willing to settle your tax debt for less than the full amount you owe, but there's no guarantee that your offer will be accepted. That's why you need the IRS tax resolution pros from David B. Newman, LLC, on your side. By working with our tax consultants to prepare an offer in compromise that is reasonable, well organized, and professionally submitted, you will greatly increase your chances of having your offer approved by the IRS.
Penalty Abatement
The cost of your IRS problems can quickly spiral out of control if you don't take care of them when you should. The longer you wait to deal with your tax issues, the more late penalties and other fees will be tacked on to your existing tax debt. When you call David B. Newman, LLC, our tax lawyers in Raleigh can work with you to help eliminate or reduce these debilitating penalty fees. We will communicate directly with the IRS or state to negotiate tax settlements and get them to suspend penalty activities, so you can address your tax debts without facing further financial hardship. 
Wage Garnishment Relief
If you go for an extended period of time without paying the IRS, your wages could be garnished, causing you severe financial hardship and personal stress. At David B. Newman, LLC, we have the expertise that's needed to put a stop to wage garnishment, and we will work with the tax authorities to resolve your tax problem and get you back on the road to a healthy financial future. 
Innocent Spouse Relief Claims
If you were unaware of serious errors or omissions that your spouse or ex-spouse made on a joint income tax return, you may be eligible for tax debt relief. If you think you're being unfairly held accountable for things like unreported income or incorrect deductions, our team can help you prove your case and get the tax relief that you deserve. Our tax attorneys have an extensive amount of knowledge and experience with innocent spouse relief claims and can assist you in standing up for your rights.
No matter what kind of tax resolution service you need, David B. Newman, LLC, is here to serve you. Call now to learn more about how we can help you get out of sticky tax situations! 
tax resolution
tax settlement
tax penalty abatements