Tax Preparation Services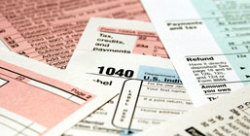 Do you find yourself dragging your feet when tax season comes around because you don't want to deal with your tax returns? Are you worried about making tax return errors every year? If you want to make sure that your returns are always accurate and that you get the best possible result for a refund or balance owed, call the tax preparation pros at David B. Newman, LLC. We offer professional tax preparation for individuals and business owners throughout the Raleigh area, and we're here to make sure that tax season isn't confusing or stressful for you ever again. Our tax preparation service is second to none, and we're ready and willing to provide you with comprehensive income tax preparation service. To learn more about our tax services, call or e-mail us today!
The tax lawyers at David B. Newman, LLC, offer both federal and state tax preparation services. With 40 years of experience in the tax industry to rely on, you can rest assured that our tax preparers are well acquainted with the tax codes and laws that pertain to individuals and business owners. When filling out your tax return, our tax preparer team will consider your specific circumstances, so that you can receive accurate results. No matter what your situation is, our federal and state tax preparation pros are here to ensure that you get top-quality assistance with filing your returns. Also, David B. Newman, LLC, is fully licensed and insured for your peace of mind, so you can rest easy knowing that your tax returns are in capable hands. When you need tax preparation service you can count on, our tax preparers are ready to help you tackle even the most complicated returns.
Back Tax Preparation Services
At David B. Newman, LLC, we also offer income tax preparation services for delinquent returns. When you fail to file your taxes, the amount you owe just compounds over the years. If you haven't filed returns from previous years, our tax preparation team can help you get back on track and get your tax situation under control. With our expert tax services on your side, you'll be able to put an end to penalties and late fees and start paying back what you owe. If our tax preparation services uncover that you owe a balance to the IRS, we can help you apply for a tax settlement that will suit your needs. Contact us today to speak to a professional tax preparer about your taxes!
Tax Filing Service
Tax Prep Service
File Tax Service
Tax Preparation Services