IRS Tax Settlement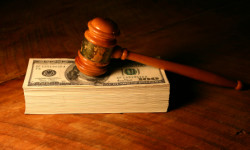 Are you looking for an easy and effective way to deal with your growing back tax debt? Are you interested in pursuing a tax debt settlement option but clueless about where to start? Do you worry that you'll never be able to find an effective way to get rid of tax debt? If you're facing a huge federal tax bill that you can't pay outright, the IRS may be willing to negotiate a tax settlement agreement with you. However, to get the best possible terms, you shouldn't pursue this option on your own. To increase your chances of receiving a satisfactory IRS settlement agreement, you need the professional services of an experienced tax advocate like David B. Newman, LLC. We're here to provide you with the top-quality IRS help you need and deserve!
With 40 years of experience in the tax resolution businesses and a commitment to providing some of the highest levels of customer service in the Raleigh area, we're the tax pros you can trust to help you deal with tax fines and penalties. When you turn to us for assistance, we can quickly determine your eligibility for options like an offer in compromise or an installment agreement. Our extensive experience negotiating tax settlements with the IRS ensures that you'll get the best resolution to your tax issues. So don't live with a burdensome tax debt any longer. Instead, get in touch with us today and relieve the pressure with our expert IRS tax help!
If your goal is to obtain an IRS settlement or any kind of tax debt reduction, call or e-mail David B. Newman, LLC, right away discuss your options. We have the expertise necessary to determine which tax settlements you'd be a good candidate for, and as your personal tax lawyers, we can represent your interests before the IRS and guide you through the often complex application process that accompanies tax settlement options. If you're unable to pay the full amount of what you owe the IRS, there are options like offers in compromise and innocent spouse relief, which could make it possible to either obtain IRS debt forgiveness or arrange for a reduction in the total amount that you owe. To find out more and take the first step to financial recovery, contact David B. Newman, LLC, at your earliest convenience. We'll work on your behalf to pursue an IRS tax settlement that is right for your situation.
Knowledgeable Tax Settlement Pros
Tax debt reduction isn't something that you can simply snap your fingers and receive. Instead, it requires expertise, knowledge, and a thorough understanding of IRS procedures and regulations, and that's where David B. Newman, LLC, can help. When you turn to our licensed and insured tax consultants to obtain a tax debt settlement or IRS debt forgiveness, you're gaining the advantage of having an experienced tax consultant on your side. Whether the best solution would involve an offer in compromise, penalty abatement, or installment agreement, we'll be your constant adviser, consultant, and tax advocate throughout the entire process of applying for a taxes settlement. We'll be sure to give you the support and guidance you'll need to handle the complex forms, requirements, and procedures involved in successfully applying for tax settlements and IRS debt forgiveness. 
Offers in Compromise
Settling your outstanding tax liability with the IRS for a lower amount than you currently owe is possible if you can qualify for an offer in compromise. If you're clearly unable to pay the full amount on your federal taxes, the IRS may agree to let you pay a smaller sum and offer you complete tax relief once it has been paid. However, this type of settlement option is highly popular and often difficult to achieve, and it's in your best interest to work with tax lawyers who have experience successfully applying for offers in compromise. If your inability to pay, along with other key factors, qualifies you for this type of taxes settlement, David B. Newman, LLC, will work to help you successfully secure an IRS settlement or tax debt reduction agreement that can save you big bucks and help you eliminate your tax problems. Call us today for a free estimate for IRS help! 
tax settlement
tax advocate
taxes settlement