IRS Back Taxes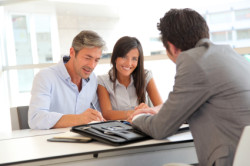 Are back tax returns and tax debts making life difficult for you or your business? Does it feel impossible to out from underneath what you owe in delinquent taxes? Are you worried that owing back taxes will destroy your finances forever? If you're concerned about back tax issues, David B. Newman, LLC, is here for you. We provide back tax relief for both individuals and businesses in the Raleigh area, and we have the expertise to help you file back taxes and get a favorable outcome for all parties involved. When you need tax assistance to deal with unpaid taxes, we can work with you, the IRS, and state tax authorities to negotiate a settlement that puts your tax troubles firmly in the past. From filing back tax returns to helping you negotiate tax settlements, we can help you eliminate your troubles with IRS back taxes today. 
At David B. Newman, LLC, we have 40 years of experience helping clients who owe back taxes, and our firm works to provide back taxes help for individuals and businesses alike. Our tax lawyers offer a wide range of crucial back tax relief services, and there's practically no tax problem that we can't solve. We have a significant amount of experience aiding clients in filing back taxes and handling delinquent taxes, so don't hesitate to come to us for help with your problems. We'll sit down with you to discover the root cause of your issues, making sure you get the right tax settlement option for your budget and your specific circumstances. 
Get Help With Back Taxes Today
When you find yourself facing problems with unpaid taxes, you should call David B. Newman, LLC, right away. The sooner we begin work to reduce or eliminate your tax debts, the smoother the overall process will be and the sooner you can get back to enjoying your life without the burden of tax debt weighing you down. If you wait to address your IRS back taxes, you may be unable to avoid some of the difficult hurdles that can complicate the tax relief process. When you call the tax attorneys at David B. Newman, LLC, you can rest assured that we'll get to work right away on filing back taxes for you. From favorable back taxes settlements to superior customer service, we're here to serve you!
Comprehensive Back Tax Help
Whether you're facing liens, levies, wage garnishment, or other serious back taxes problems, you can count on our tax lawyers to help you find a workable solution. There's no need to let tax officials pressure you or to continue stressing out over your financial situation. At David B. Newman, LLC, we understand what you're going through, and we put our expertise to work for you to end your tax woes for good. Often, we can negotiate IRS back tax solutions that involve paying less than you actually owe, so call in our team for tax assistance today.
Remember, when you call David B. Newman, LLC, for help with your state or IRS back taxes, you'll no longer have to go through the ordeal of worrying about your tax situation on your own. We are here to assist you every step of the way, providing accessible customer service whenever you have a question or concern. We understand that owing back taxes can take its toll on you. That's why we're here to guide and support you until your back taxes problems are a thing of the past!
Back Taxes
Filing Back Taxes
IRS Representation
Back Tax Return
Owe Back Taxes